TimeSlips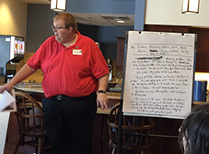 TimeSlips - This evidence-based, award-winning approach inspires and brings joy to elders and their care partners. As our bodies and minds change with age, and frailty and memory loss threatens to separate us, the TimeSlips creative storytelling programs offers hope by showing how creativity and imagination can re-connect us. TimeSlips' creative approaches are used around the world. Felician Village has been certified since 2017 to participate in the TimeSlips program.
TimeSlips models true person-centered care has been shown to increase the quality and quantity of engagement between staff and residents in nursing homes. It has lead to enhanced verbal skills, positive behavioral changes, more communication and less confusion in people living with dementia. Reflecting the strength of its evidence base, TimeSlips is featured on the U.S. Agency for Healthcare Research and Quality's (AHRQ) Innovations Exchange.
Creative engagement is an ideal way for people with cognitive challenges to communicate. A session of TimeSlips includes gathering up to 10 resident storytellers in a semi-circle. Each storyteller is given a picture and then asked open-ended questions about it. The facilitator transcribes the exact responses from the storytellers on a flip chart and creates a story. There is no pressure for the resident to remember because it uses the imagination; there is no right or wrong answer.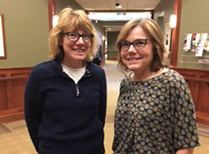 Wendy Lutzke, Volunteer, Laurie Mosher-Paulin, Volunteer and Tim Reinemann, Quality of Life Supervisor are certified facilitators. TimeSlips is held regularly at The Villa Lakeside.
Read the wonderful stories created by our residents during the TimeSlips sessions.