Assisted Living Group Home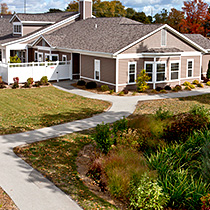 The Villa - Assisted Living Group Home
Is it time for assisted living? Often times it is difficult to know if or when it is time to relocate a loved one to another living option. Let us help make that decision easier for you with our NEW! Complimentary Consultation.
The Villa offers an encouraging assisted living atmosphere for those requiring extra care and has two households with room for 16 residents in each. The Lakeside household is designed for those with early to mid-stage dementia and includes a SNOEZELEN® Sensory Room. With the only rooms of this kind in Manitowoc County, these rooms provide sensory stimulation and promote relaxation for those with dementia and their families. This room offers an alternative to increased medication and helps to improve attention and awareness, while decreasing aggression and anxiety.
Employees working with residents who have dementia receive specific training to meet resident needs. At The Villa, you can enjoy security and support in a group home environment, as well as onsite caregivers 24 hours a day.
The Villa can meet changing needs in a safe and supportive atmosphere. A professional assessment by our assisted living registered nurse helps determine the level of care needed and then an individualized service plan is developed for each resident.
Accommodations are spacious, and you will appreciate your own large bedroom with private bathroom. For your convenience, weekly linen changes and personal laundry services are provided. Delicious meals are served family style in The Villa dining rooms, providing an enjoyable social event. All meals are prepared under the supervision of a registered dietitian.
Not sure if you or your loved one would benefit from assisted living? Download a list of signs that may indicate assisted living would be helpful (PDF).

In addition to the private room, the accommodation fee at The Villa includes the following services:
Three meals a day
Snacks available throughout the day
Weekly housekeeping services
Weekly linen change
24-hour a day, on-site nursing staff
The Villa is a Class C, non-ambulatory Community-Based Residential Facility (CBRF) governed under DHS 83 regulations, which ensures that we provide the highest quality of care.
Click here to view campus amenities