Volunteer
Submissions due by March 30, 2023.
Volunteering makes a person feel great inside! Volunteering not only gives you an opportunity to change other people's lives, but your life as well. There are many volunteer opportunities available at Felician Village.
Felician Village is proud and appreciative of volunteers who share their time, energy and talents in support of our residents. Volunteers are welcome to assist staff and residents in a variety of positions. If you have an hour or two a week to give, we will help you find a volunteer opportunity that is interesting to you and touches the lives of the residents served at Felician Village.
Click here to sign up! Volunteer Referral Contest
Volunteer Opportunities
TriShaw Bike Pilots - "Pilot" a pedal aided by motor assistance bike with a bench seat in the front for residents to enjoy a bike ride.
Felician Village at Home - Companions, transportation, light household projects, many other opportunities
Companions – (The Court, The Villa, & St. Mary's) One-on-one companionship, talking & listening, individual activities like playing cards, games, puzzles, reading
Paint resident fingernails - Once per week or once every other week
Entertainment - Share your musical talent with large or small groups
Escort for chapel and salon - No lifting required.
Wii Bowling at The Gardens - Set up Wii Bowling, assist residents with game controller, arrange room back in order after bowling
Greeter Reception Desk - Greet visitors as they enter and leave Felician Village, direct visitors to locations on campus, assist visitors with locating the person they are visiting
Happy Hour - (The Gardens) Help with set up, serve cocktails and food, clean up
Book Club- Keep log of book club members, offer suggestions in choosing upcoming books, pick up new book club selection and return and return the books to the Gardens office.
Felician Village Summer Concerts - Serve food and carry food to tables for residents/guests, assist with clean up
Crafts - Prep work for craft, assist residents during the craft class and help clean up. Locations: Gardens or The Court
Technology Assistant - Provide computer skills to residents and set-up times for residents to learn how to use email, Facebook, etc.
Make birthday or holiday cards for residents.
Unable to donate your time, but would like to help out? Donations of large print books, craft supplies, bingo prizes & small items for Christmas gifts are always appreciated.
Do you have a talent or interest not on this list? Contact Debbie and we can look into making it happen!
Volunteer Newsletters
To see the most current Volunteer Connection Newsletters click here!
2022 Felician Award Winner
Congratulations Barb Cook!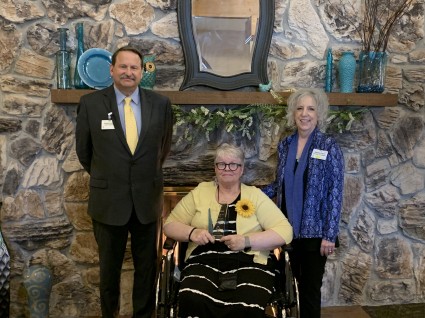 Barb Cook was recognized as the recipient of the 2022 Felician Village Volunteer of the Year. Part of Barb's nomination said, "Barb shares her passion and love of music with residents, staff and the community. Barb recently worked to develop and teach a hand chime choir with our independent living residents. She is also a wonderful ambassador for our membership program, encouraging members to attend social and education events and have FUN."

Pictured: The 2022 Felician Award for Excellence in Volunteer Service at Felician Village was presented to Barb Cook. The award was presented by Frank Soltys, President/CEO (left) and Debbie Pitsch, Volunteer Coordinator (right).