Rehabilitation Center
Next Step Rehabilitation - Rehab Services
Next Step at Felician Village helps patients bridge the gap between hospital and home. Patients are able to focus on returning to their own surroundings as they recover from conditions such as joint replacement, back surgery, stroke, wound care, IV therapy, or complications to medical illness such as congestive heart failure, and pneumonia.
Felician Village has been offering rehab services for over 30 years. Incorporating our Resident-First philosophy, our professional care team of nurses, therapists and other caregivers respect the individual needs of each patient. These professionals, in coordination with your physician, work together as a team to individually manage your care.
Our therapy department is furnished with the latest equipment, including a fully furnished apartment area allowing patients to safely practice and strengthen a variety of daily living skills. Our skilled team of physical, occupational and speech therapists delivers the highest standard of clinical excellence. We can assist you in obtaining a physician referral and help pre-certify your insurance coverage so you understand the coverage.
Rehabilitation Center Services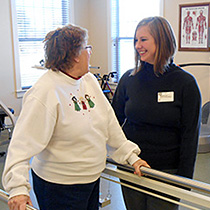 Inpatient and outpatient services
Therapy scheduling, seven days a week
24-hour nursing care
Social services assistance
Ongoing communication with your physician
Learn how therapy can assist with instrumental activities of daily living (IADLs)
Amenities at Next Step
Dedicated household with private rooms
Phones in every room
Free Wi-Fi throughout the unit
Flat-screen TV with DVD
Private bathrooms with easy access showers
Lounges with fireplaces for patients and visitors to enjoy
Three meals daily plus snacks in the household kitchen and dining room
Housekeeping services
Leisure and social activities (games, movies, books)
Care team includes registered nurses, registered dietitian, social worker for discharge planning, therapists and certified nursing assistants
Admissions 24/7
Campus amenities including three restaurants, salon and massage therapy, and on-site medical clinic provided by Holy Family Memorial - click here for more information on campus amenities.