Felician Village at Home
Enjoy life and continue to live in your own home.
Become a member today!
Felician Village at Home is a unique membership program designed to support the health and well-being of people living in their own home or apartment as they age. The program helps older adults continue to thrive through involvement, interactions and learning. Medical services are not provided through this program. For only a small fee each month, members are eligible to receive a variety of services, social and educational opportunities as well as discounts from area businesses. In addition, members not only use our services, but they support one another through volunteerism, rather than relying entirely on support from us.
Felician Village at Home Member Benefits:
Access to Pre-Screened Service Providers - A list of vetted providers offering services for you and your home. Some offer discounts to our members.
Special Discounts – Discounts offered at various businesses in Manitowoc County.
Volunteer Opportunities – Opportunities to help Felician Village at Home Members or on the Felician Village Campus. Neighbors helping neighbors!
Social Events – Member groups, outings, gatherings and more!
Educational Events – Monthly events on a variety of topics with member interests in mind.
Felician Village on the Go – Get a ride where you need or want to go.
Quarterly Newsletter – Packed with great information and delivered right to your email inbox.
Notary Service – Coordinate with Felician Village at Home to get whatever you need notarized.
Information & Referrals – We'll help you find agencies to serve your needs.
Volunteer Services – Access to volunteer services such as light yardwork, minor home maintenance, basic technology, friendly visits and more!
Felician at Home Perks - Mattress flipping, shredding, holiday card writing and more!
I AM Fine Reassurance Program- Easy automated phone call to let us know you're up and at 'em.
House Checks – We'll look in on your house and water plants while you're away.
Medication Reviews – Reviews from an experienced local, pharmacist.
Membership Pricing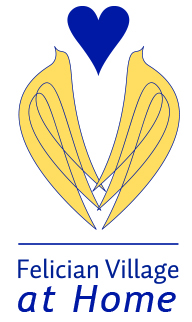 Basic Membership:
Single - $16/month
Household - $21/month
Full Membership:
Single - $21/month
Household - $26/month
Discounted annual memberships also available!
Interested in becoming a Felician Village at Home member?
Contact Lauren Daun, Felician Village at Home Supervisor, email or 920-684-7171 ext. 425 or apply today!