Donate
Each year people from the Manitowoc area turn to Felician Village. Many choose to live independently at The Gardens knowing that a continuum of care may be steps away. You have the opportunity to be a part of this vital work.
Join our ongoing commitment to provide a quality lifestyle for residents and excellence in supportive care for the Manitowoc community. Become a donor or an advocate on our behalf to the philanthropic community.
2023 Donor Development Newsletter
Donation Form
Click here for our printable donation form
Donate Online
Step 1: Click the donation button. Then click the denomination amount to be donated or enter your own amount. Next click on the option to either login to your PayPal account to donate, or if you do not have a PayPal account, you can donate with a credit or debit card.
Step 2: A new page will generate. On this page you have the option to leave a message about your donation by clicking in the box that says "Special Donation Message". You can specify which of the five giving options from those below that you would like your gift to be designated to or specify your personalized donation.
Step3: Fill out the billing information and click "Donate Now". Shortly after, you should receive a confirmation email from PayPal that your donation has been processed.
Thank you for giving to Felician Village! Your gifts make a difference to the residents of Felician Village.
1. Dementia Care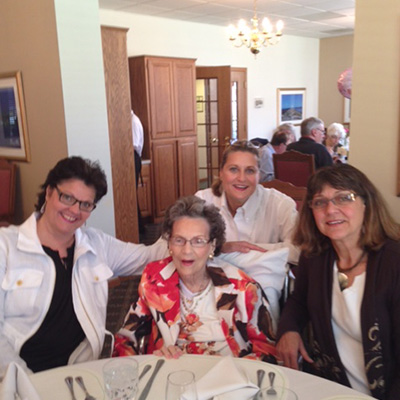 Center which provides education to families, staff, and the community. SNOEZELEN® Sensory Room includes sensory modalities and tactile stimulation for residents who live with dementia, Alzheimer's and neurological impairment.
Thanks to Dee Ann Keip, 517 people have experienced the Virtual Dementia Tour and Hand in Hand dementia training. Pictured to the right is Dee Ann, her sisters and mother.
2. Upgrade to Blessed Angela Chapel
Improvements for AV equipment and audio capabilities
3. Cornerstone Endowment Fund for those in need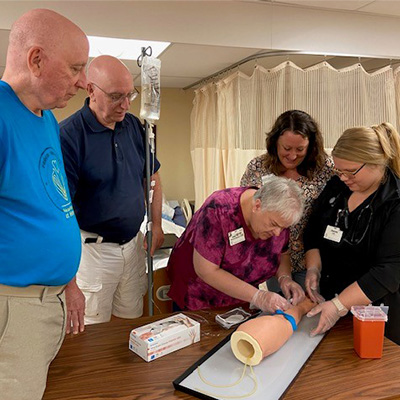 Through an endowment fund established at Lakeshore Community Foundation, in 2022 we applied $25,700 in earnings to offset uncompensated care for Felician Village residents who are reliant on Medicaid.
Pictured to the right are Jim & Jerry Lax, donors and Gardens residents, along with Joan Smaglik, FV Nurse Educator, Darcy Wech, FV Director of Nursing and Jeanna Trestik, LPN at FV. Learn about the gift provided for enhanced education at FV
4. Outdoor gardens
Enhance our beautiful gardens with a brick to honor or memorialize a loved one. Provide a lasting tribute through an engraved brick in one of the gardens at Felician Village.
5. Unrestricted fund or area of greatest need
Providing funds for the immediate needs of our campus.
6. Campus-wide activities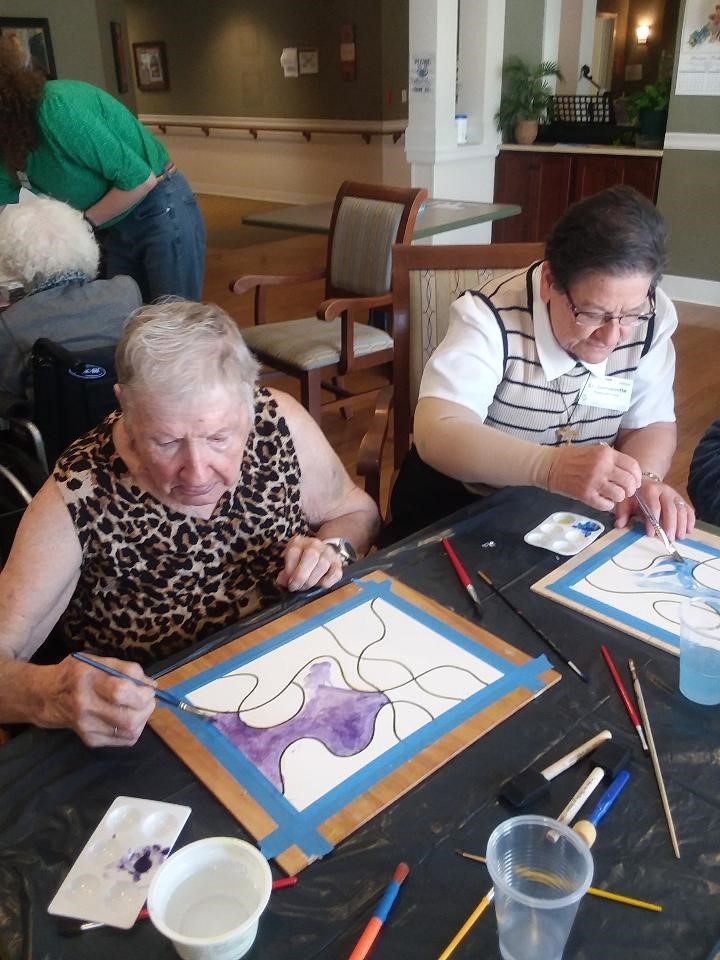 Sponsor musical entertainment, prizes for BINGO, arts & crafts supplies, etc. Our residents LOVE activities and their smiles say it all!
7. Music Therapy and hospice program
Music therapy for our residents, especially for those nearing end of life, is one of the most powerful interventions FV offers. 100% of residents who have used music therapy have benefited from it. Read more about music therapy at FV.
8. Gifting through QCDs
Are you considering a charitable contribution? Do you have a traditional Individual Retirement Account (IRA)? Are you 70.5?
If so, a Qualified Charitable Distribution (QCD) may be attractive to you and your charity. St. Mary's Home for the Aged, Inc. dba Felician Village Federal Tax ID is 39-0826123. Contact Renee for more information!