Employee Spotlight
Service Excellence
Congratulations Tanya Lulloff, Service Excellence Star Award Winner!
Tanya's nomination:
"In her role as Social Service Designee, Tanya has helped me with many concerns, both large and small. She does not draw boundaries around her responsibility, but instead, she immediately takes real actions to address the issue. Always approachable, yet professional. Tanya is a valuable partner in the care of our loved ones."
Pictured: (left to right) Stephanie Madson, Social Worker, Tanya Lulloff, Service Excellence Winner, and Frank Soltys, FV President and CEO.
Featured Employee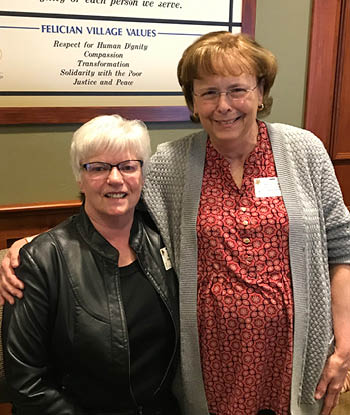 Denise King, 45 year Felician Village Employee
Denise started her employment at St. Mary's on January 24, 1975, as a CNA. She transferred to the activities department in 1987 and for the past 23 years, she has been the receptionist/switchboard operator for the campus.
Denise's words of advice for career longevity - "Treat others the way you would want to be treated."
Pictured is Denise (on the left) with her supervisor, Mary Olson.
Opportunity Comes Knockin' in Culinary Services!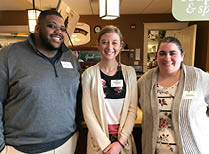 The greatest way we can showcase our dedication to transforming those around us is to promote from within when the opportunity is available.
Three members of the culinary team have worked incredibly hard and earned a well-deserved place among our culinary leadership team. Xavier Gilcrest worked as a culinary aide in long term care and was promoted two years ago to Culinary Supervisor. He brings a wealth of knowledge and dedication to the team. Kendra Hansen worked as a culinary aide for three years and was promoted to AM Culinary Supervisor six months ago. She is aspiring to go into the nutrition and dietetic field. And very recently, our Baker, Shawn Tesch has been promoted to St. Mary's Kitchen Supervisor. Shawn has been working here for two years, tantalizing us with her amazing treats and is ready to take the next steps in her career.
We could not be more proud of the dynamic leaders that have stepped forward from within the ranks to take on the ministry of transforming and serving those around them.
Learn about Felician Village current job openings, employment application or employee testimonials.
Questions? Contact Michael Hillmer, FV Director of Human Resources or call, (920) 684-7171 ext. 293.