Assisted Living
Safe environment with exceptional care for them, peace of mind for you. That's what assisted living is all about at The Court and The Villa.
Engaging activities will fill your day while pastoral support for all faiths is part of the Felician tradition. Enjoy your life in Manitowoc's most active senior living community - Felician Village - celebrating 132 years in Manitowoc.
Assisted Living Options
Felician Village offers two options to meet your assisted living needs.
The Court at Felician Village is the only state-certified Residential Care Apartment Complex (RCAC) in Manitowoc County, offering the highest quality care. From assistance with daily activities to therapy or nursing services such as medication administration and management, you receive the level of care that best suits your needs.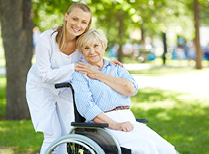 If a little more supervision is required, The Villa at Felician Village can meet your changing needs in a comfortable, safe, supportive and encouraging atmosphere. As a Community Based Residential Facility (CBRF), the Villa has two households with room for 16 residents in each. One of the households is designed for individuals who have early to mid-stage dementia. All residents enjoy security and support in a group home environment, as well as on-site caregivers.
Both assisted living options include delicious meals and a variety of social activities that range from arts and crafts or exercise classes to card parties and special guest entertainment. Continue to enjoy all that life has to offer ... with a little help from The Court and The Villa.